Rockabilly Gods in the Mirror are Less Genteel than they Appear
Brothers and sisters, if you know one thing about me (Which many of you do), it's quite obvious that I love rockabilly. I mean it, I LOVE ROCKABILLY. And since many of you here tonight know me, have worked with me, have played with me, you know how great my desire is to spread the good news unto all the nations.
THUS...I present to you, one Reverend Horton Heat. Now time to drop the corny preacher act, 'cause, honestly, he does enough of that for all of us. The fella is one of the most underrated talents in the rockabilly world. The fella's a damn good picker (Who merges country, rock, rockabilly, and blues styles into a style that is nothing but his own). He also sings really well (Albeit, in a sorta detached, wacky, psychobilly manner). Now note, he's no old chump, while the guy can pick and sing "Folsom Prison Blues" with the best, the fella's got an origional spark that does a lot for the "punkabilly" idiom bands like the Stray Cats, Red Elvises, and Cramps created in the 80's. These days, though, most of the "talents" are but shadows of the old master, recycling tired licks, and power-chording 5ths into oblivion. Not so for the Rev. He could face off against the old gods and live to tell about it.
Speaking of old gods, the fella has a lotta the old masters of rockabilly in him. Even though he's new and punky, his "hard-living ways," gratuitous amounts of car songs, and smooth, macho additude could be compared to Gene Vincent (To say nothing of the fact that he seems to have inherited Setzer's ability to move a crowd and Roy Campi's nihilistic showmanship. Whatever the case, he IS modern punk rockabilly. Like I said about him on the Gretschpages: "I respect the fact that he's a strong player, in a strong band, playing garageier, more unconventional music. It's sorta like listening to Bob Log III, the Cramps, or the Clash, where you know they could play "better" music (Not better as in higher-quality, but music they would get props for), but they enjoy the "dirtier" sound."
Of course I can talk about him all you want, but ultimately, my words are nothing compared to his: "If you listen to the band's catalog, you might say there are a few recurring themes found in our songs: beer, gin and tonic, whiskey, cocaine, tequila, martinis, marijuana, cigarettes, cars, more beer, pretty women, sermons, cats and dogs, the devil, Texas, and Jimbo. Not to mention steak and dildos. All the good things in life."-Jim Heath, a.k.a. the Reverend Horton Heat. But here's the real skinny, I want to see people buying his new album. Why? Cause it's friggin' great, it's a crazed, disturbing, racy, rockabilly celebration of all that's wrong with human society. The thing about a guy who is so into developing a sort of idiom or mystique for himself (No matter how odd) is that he just keeps getting better with every album. His new album, Lucky 7's is good, really good, and I want to see everybody with a copy. Of course, I'm not going to be mean and demand a purchase without you getting to know it, so here's some places where you can listen in: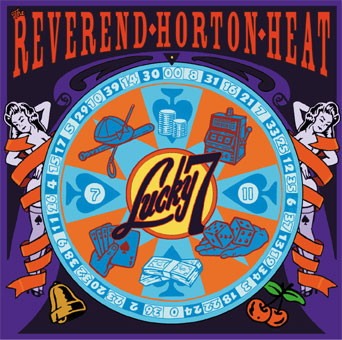 Tower Record's Site, 30-second sound clips of all the tracks, listen here, buy it wherever you want.
The Rev site from whence I got that picture
I'm going to keep working to make this little bit of shameless Rev promotion better, so keep lookin'